Mangosteen which focuses on American citycoco, also attended this year's Chongqing Motor Expo. At this exhibition, they not only exhibited the MANGOSTEEN M1PS Tianzun and MANGOSTEEN M8S that we tested earlier, but also unveiled a brand new mangosteen escooter FT01!
This new mangosteen escooter electric bike adopts the popular straddle style, which is more playful than traditional pedal style electric bicycles. And taking into account the different riding needs of different consumers, the new car has two different power versions of light electric motorcycle and mangosteen escooter electric bicycle.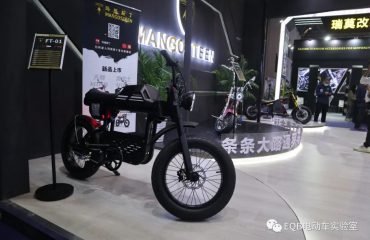 In terms of design, the new FT01 still continues the brand's flagship retro design style, which is in line with the current fashion trend. Moreover, different versions of the headlights have different designs. The headlights of the model with red as the theme color adopt an animal bionics design. The entire headlight looks like the face of an insect, which is very recognizable.
Different versions of the models are equipped with a huge "fuel tank", but the battery pack is not placed in the "fuel tank", but placed inside the horizontal frame. The battery supports both direct charging and can be pulled out for separate charging.
The battery specification of the light electric motorcycle version is 48V30Ah, with a total capacity of 1440Wh. A full charge takes 6 hours. The motor is a Bafang aluminum alloy motor with a power of 1000W and a maximum speed of 50km/h. It is said that the maximum assisted cruising range can reach 120km.
In terms of other configurations, the FT01 uses an aluminum alloy frame, a large-size LCD screen, hydraulic disc brakes, etc. There is also a storage space at the bottom of the vehicle for personal belongings.
Pricing and availability for the mangosteen escooter have yet to be announced, but we're guessing it should be available soon.
We also tested the other two electric motorcycle mangosteen escooter models MANGOSTEEN M1PS Tianzun and MANGOSTEEN M8S mangosteen escooter on display at the scene. 
MANGOSTEEN M1PS escooter Tianzun has a strong power. Equipped with a Transit aluminum alloy motor, it can output 4000W of power, and the top speed is set at 80km/h. Samsung's 72V40A battery is used. When fully charged, the battery-saving mode can travel 140km.
MANGOSTEEN escooter M8S adds a sporty appearance and configuration to the style of an American retro cruiser. It is divided into two versions: 60V45A and 72V35A. Mangosteen escooter also uses Samsung batteries, with a maximum speed of 80km/h. In power-saving mode , the maximum battery life is 120km. These two electric motorcycles have already begun to be sold in China.